Melbourne's first choice for Hot Water Systems and Hot Water Repairs.
Day in and day out, Melbourne homes and offices rely on hot water. When your hot water system starts to act up you may find yourself suddenly and inconveniently out of hot water. Or perhaps your solar panels have suffered damage, you've discovered a leaky pipe, or you're in the market to upgrade to a more efficient system. If any of these problems arise, it's time to call on Doherty Plumbing Solutions on 03 9877 5775 for all your hot water repairs and services in Melbourne.
Some of the common reasons your hot water system may not be performing properly include:
Pilot light fault
Faulty gas control valve
Leaking PTR valve
Water leak within the hot water unit
Gas supply issue
Our licensed team of professionals provides complete hot water services in Melbourne, including repairs, maintenance, and installation for:
Gas hot water heaters
Electric hot water heaters
Solar powered hot water
Heat pump hot water heaters
Regardless of how your hot water system got damaged or stopped working, the important step is choosing the right repair service. A professional plumbing service like Doherty Plumbing Solutions can ensure that your system is up and running in no time and ensures customer satisfaction you can bank on. Melbourne residents can call us for all hot water needs and repairing services on 03 9877 5775.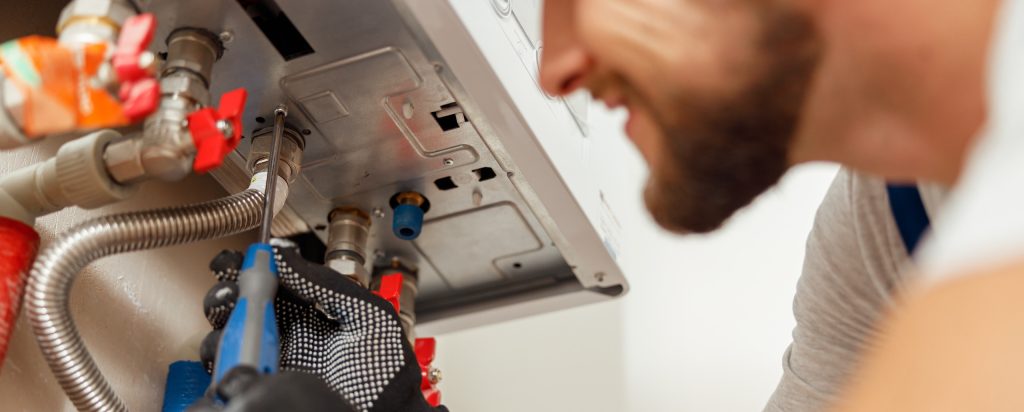 When you choose Doherty Plumbing Solutions for your Melbourne hot water repairs, you'll receive top-of-the-line, quality workmanship, and fast, same-day service.
Doherty Plumbing Solutions employs highly skilled plumbing experts who can provide a wide range of plumbing services to suit your needs. We offer installation, maintenance, and repair services for all kinds of hot water devices including but not limited to:
Gas hot water heaters
Electric hot water heaters
Solar hot water heaters
Heat pump hot water heaters
By choosing to hire our experienced plumbers, you are giving yourself the peace of mind that the work done on your hot water systems is top-of-the-line from professional plumbers you can trust. We strive to offer a fast, same-day response to ensure your plumbing needs are met when you need them most because nobody can plan emergencies.
We've partnered with industry-leading, Australian brands you can trust!
Doherty Plumbing Solutions is proud to be official partners with several industry-leading brands in Australia, including:
Rheem
Vulcan
Aquamax
Dux
Rinnai
Bosch
If you have a preferred hot water system that isn't listed above, let us know and we'll make the necessary arrangements to order and install it in your Melbourne home or business. Our licensed professionals are capable of handling all brands, even if it's not one of our preferred partners. We pride ourselves in flexibility and will make every necessary attempt to ensure you get the brand you want with quality service you can trust.
Frequently Asked Questions:
1. Why should I hire a professional plumber for my hot water repairs?
Hot water systems are delicate and complicated; if entrusted in the hands of an amateur or unlicensed contractor, you run the risk of voiding your hot water system warranties and writing yourself out of future insurance claims. Worse, they might solve one problem while unintentionally creating another one that could be even more dangerous. Most importantly, you place your home, family, and staff at risk.
With a licensed plumbing company like Doherty Plumbing Solutions, you are ensuring that the plumber assigned to repair or replace your hot water system is an expert who has complete knowledge of the equipment and knows exactly what to do to get it running without causing further damage. Our team is fully informed about all the models from the leading brands mentioned earlier and can make sure that your system goes back to running like it should.
2. What if my hot water heater is past the point of repair? How can your Plumbers help?
If your hot water system has become unrepairable (rest assured that we will try every possible way to make it work normally first), we provide you with all the suitable options that will be compatible with your home and household requirements and will ensure hassle-free installation.
Factors like your current configuration, family size, budget, and lifestyle will all be considered when we suggest the best solution. We can also install the system on your property the same day to minimise any disruptions to your normal routine as much as possible.
3. Can I get plumbing services after office hours? Do your Plumbers offer flexible assistance?
Doherty Plumbing Services provides emergency assistance to clients across Melbourne. If your hot water system starts acting up, then you can contact us at any time on 03 9877 5775. We try to avoid after hours call outs as they are expensive for the customer and a huge demand on our already busy plumbers. We are happy to discuss available options though.
4. Do hot water systems affect gas and electricity bills?
As your hot water system gets older, it will become more inefficient and waste energy while heating water. This will result in the system running much longer to achieve the same temperature and resulting in higher energy bills. If you start detecting an increase in your bill, then contact Doherty Plumbing Solutions right away to get your system checked.
Call Today!
With Doherty Plumbing Solutions, you can trust that we'll do the work quickly, safely, and in accordance with Australian industry standards. Connect with our experienced and qualified staff on 03 9877 5775.